New features
MyPortfolio is going to be upgraded on 31 January 2018 to Mahara 17.10. There are lots of new features in this new version.
The important highlights are mentioned here for a quick overview. If you wish to take a look at all the differences, check out the following two links:
Combined pages and collections
You can now see pages and collections in one place, search for collections as well as pages, and see more quickly when you've shared a portfolio with others.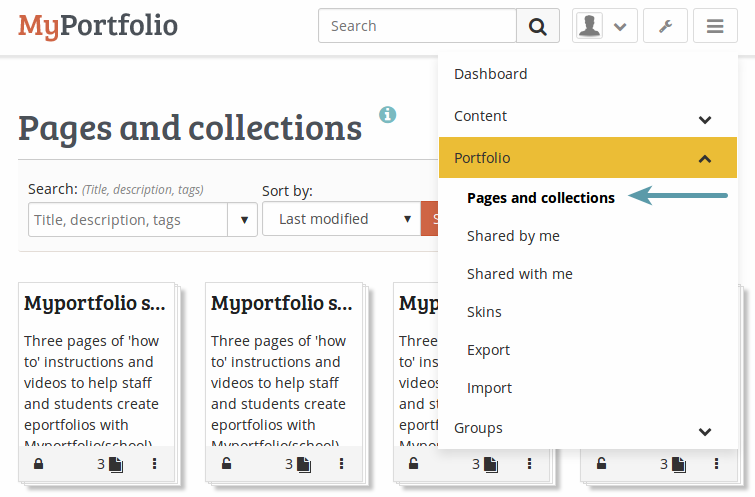 There are a number of icons for each portfolio that give you quick access to additional information and functionality: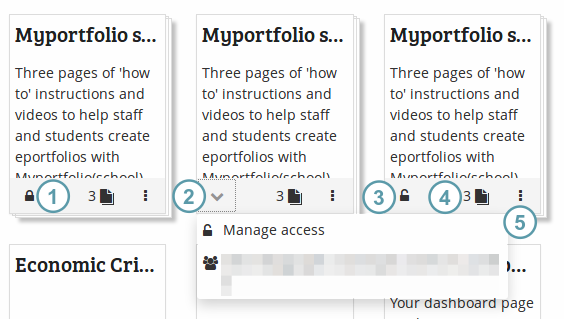 Lock icon: You have not shared that portfolio with anybody.
Click the icon and you can quickly get to the access management screen. If you shared your portfolio with others, you'll see to whom you gave permission to see your portfolio.
Unlock icon: You shared that portfolio with someone. Click the icon to see who has access.
If a portfolio is a collection, you can see how many pages are in the collection. Click the icon to jump to a specific page within the collection quickly.
More options icon: Click the icon to edit a page or collection, manage a collection, or delete a page or collection. You can see the creation and modification date of your portfolio.
Editing a page
The editing of a page got easier because options are now combined, and you can share a single portfolio directly from the edit area:

Settings: Change your page settings here, including title, description, tags, and layout.
Edit: Add your learning evidence here via drag and drop or using the keyboard.
Share: Decide with whom you want to share your portfolio. You can set up a secret URL directly from this screen if you want to share your portfolio (a single page or an entire collection) with someone who doesn't have an account on MyPortfolio.
App-style navigation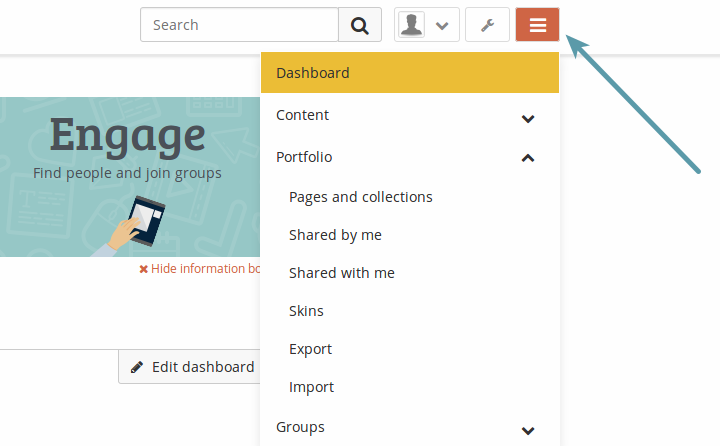 MyPortfolio went over to a unified navigation across all devices.
You can access all menu items from the top right-hand corner:
Main menu: Contains all things relating to your portfolios and groups;
Administration menu: Only visible to administrators and staff to perform  administrative activities;
User menu: Gives you access to your account settings, inbox, profile page, and lougout option.
Print and delete a page
When you click the "More options" button on a page that you own, you can print or delete the page directly from there. If you do not own the page, you can still print it and report any content that is offensive, but you cannot delete the page.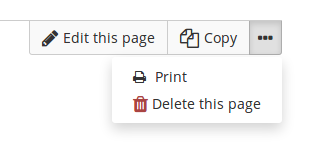 Other changes for everyone
Display the last updated date on a page;
Rename images and they are re-ordered in an image gallery folder;
Search your notifications.
Features for administrators
A new reporting section was created that contains a number of new reports to support the reporting on learning of individual students.
You can upload a small logo for your institution to be used on small devices.
ADFS / Azure AD can be used as authentication methods. If you'd like to use either, please get in touch.